Clemens was born in Heidelberg/Germany. His musical carreer started at age 3 when he touched the piano for the first time and was overwhelmed by the magic of the sound. After 3 experimental years exploring its possibilities he started taking regular piano lessons at age 6.
After a bunch of years of classical training he soon discovered his passion for other keyboard instruments such as organ, synths and his voice. At age 17 he made his c-exam in classical organ. At that period he started playing jazz music. His newly formed piano trio won the 1st prize at the the "krakow jazz juniors" contest in 1995.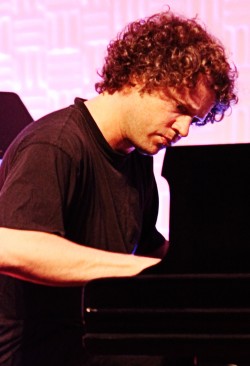 In 1996, shortly after clemens became a member of the Gunter Hampel Group and his "Next Genereation" band, Clemens was extensively touring Europe while still studying music with John Taylor and Bill Dobbins at the University of Cologne.
In 2000 he won a scholarship to study piano in New York City with Sir Roland Hanna, Michael Mossman and Kenny Werner.
From 2005-2009 he has run a regular Hammond Organ gig in Cologne which to become a steady institution for Live Jazz in Cologne.
In 2009 he won the 1st prize at the International Piano Contest "Premio Benedetto XIII" in Bari/Italy". Clemens resides in Cologne/Germany performing regularly with his Trio, Solo or as a Sideman.